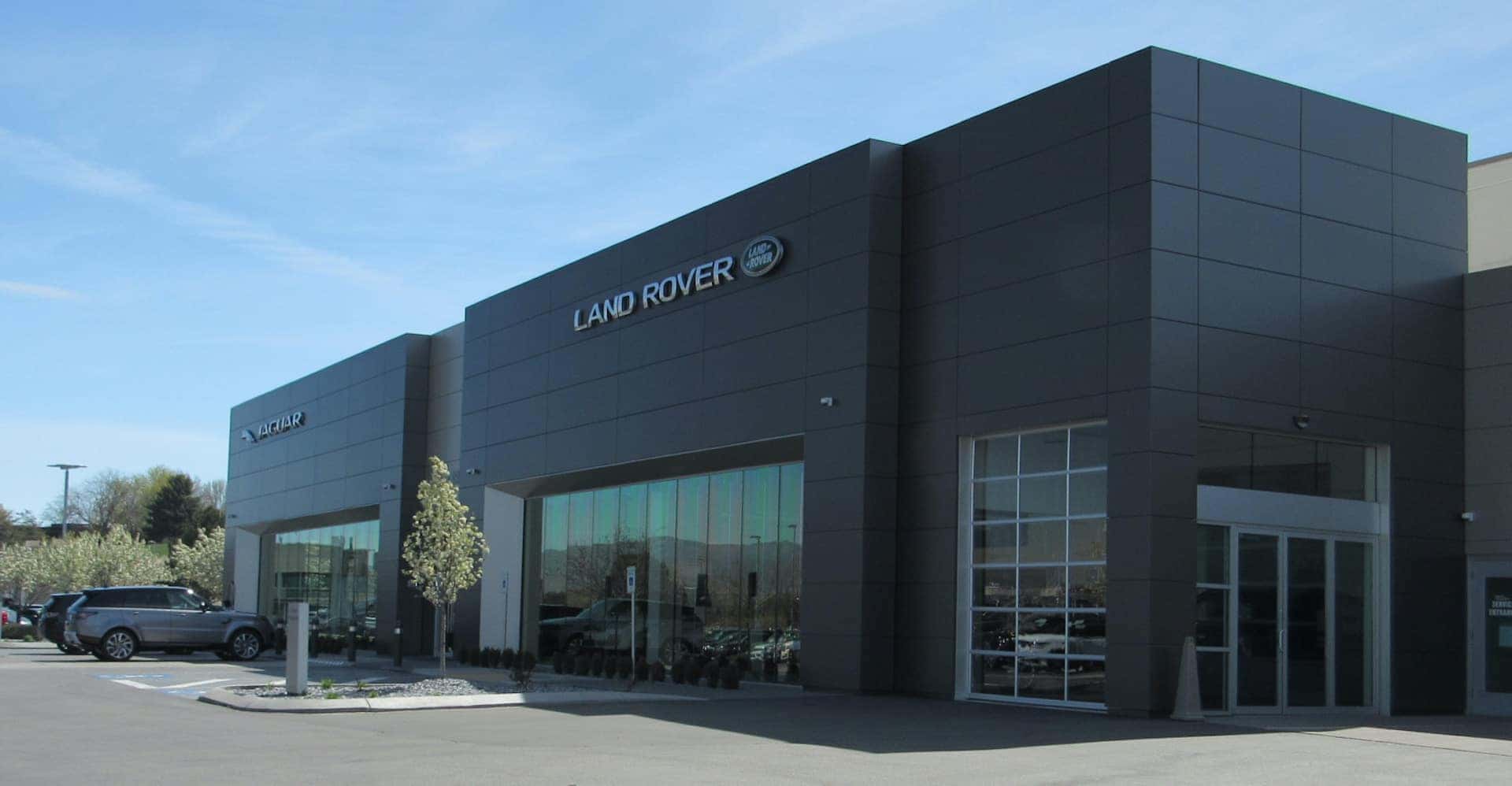 We're happy to share that we are one of 16 Land Rover Retailers in the U.S. to earn the prestigious 2019/20 Pinnacle Retailer Excellence Award for exceptional sales, service and customer satisfaction. Our thanks and appreciation go out to our customers for their support and their loyalty to us and to the Land Rover brand. We take pride in this achievement and are committed to living up to its principles every day, for every customer, making your Land Rover experience exceptional. We're pleased to offer Boise and the surrounding area a full inventory of new Land Rover vehicles as well as high-quality, Approved Certified Pre- Owned vehicles. If you're looking to buy or lease an extraordinary vehicle backed by outstanding sales and service, come to Land Rover Boise. Attractive lease and finance offers are available. Visit us today at 7805 West Gratz Drive, Boise, ID 83709, and experience our passion for Land Rover first hand. We look forward to serving you!
Our Land Rover-Shopping Experience
We make it easy to start your search for a new Land Rover; simply browse our inventory online. You'll be able to explore pictures, specs, and features. Plus, our innovative search tool will make narrowing down your results a breeze.
If you're looking to hit the streets in style, jump behind the wheel of the Range Rover Evoque. If you need a Land Rover with sport car-like dynamics, we have the Range Rover Sport. There's even the Land Rover Discovery. Its versatility makes it perfect for any adventure!
When you arrive at our showroom, you'll be greeted by a member of our knowledgeable sales staff. They can guide you through our inventory and help you schedule a test drive of your favorite model.
Land Rover Financing
The adventure doesn't end when you find your favorite Land Rover. The fun continues over at our finance center. There, our team of experienced advisors can help you secure a financial offer that works with your future goals. They can even help you if you're stuck between buying and leasing. Get started by applying for financing online!
If you'd like to see what we have to offer, check out our rotating list of vehicle specials and Land Rover national offers. There's bound to be something there that'll make it easy to get your dream SUV.
Adding to that, we also have a wide array of tools that can help simplify the financial process. Our Value Your Trade tool can help you get a better idea of what your current ride is worth. Then, when you arrive at our dealership, we'll help you apply that value to your new Land Rover.
Our Service Center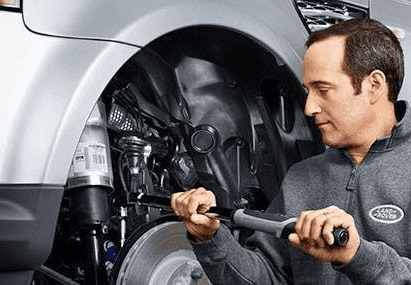 To keep your Land Rover in tip-top shape and performing at its best, bring it back to the service center here at our dealership. We have a team of certified technicians that have the know-how required to handle everything from oil changes and tire rotations to brake repair and engine maintenance. They'll have you back out on the road in no time!
You can also peruse our list of service and parts specials online. They'll help you get the maintenance that your Land Rover needs.
To make things even more convenient for you, we've also made it possible to schedule a service appointment online!
Learn More About Our Land Rover Dealership
Now that you've discovered our Land Rover dealership, it's time to stop by our showroom. Come see how easy it can be to hit the streets of Boise, Nampa, and Meridian in your very own Land Rover.
Contact Land Rover Boise today!
Dealer Info
Thanksgiving Day

Closed

Company Event 12/02/2022

7:30 AM - 4:00 PM

Christmas Eve

9:30 AM - 7:00 PM

Christmas Day

Closed

New Years Day

Closed
Mon - Fri

9:30 AM - 7:00 PM




Sat

9:00 AM - 6:00 PM




Sun

Closed
Mon - Fri

7:30 AM - 6:00 PM




Sat - Sun

Closed
Mon - Fri

7:30 AM - 6:00 PM




Sat - Sun

Closed
Sebastian and the staff at Lyle Pearson were amazing. I ordered a new Acura over the phone. It was simple and so easy! Sebastian kept me updated throughout the entire process. In the past I have been in a dealership for over 3 hours when purchasing a vehicle. This process was quick, to the point and actually a fun experience. The staff was extremely kind and seemed excited for me. I would 100% but another car from Sebastian at LYLE PEARSON ACURA!
I had originally posted a negative post on the service department of Lyle Pearson due to recent work I had done. After speaking on the phone with the GM and understanding their side of things I was hasty in my post. I appreciated them reaching out and giving me information I didn't have and now understand. I'm satisfied with their explanation and this matter is resolved.
Eddie went out of his way, to handle my concern with some misunderstandings.
This will be the second Range Rover we have purchased from Lyle Person Land Rover. The whole team was amazing from signing papers to Andy in the detail department! Our salesman Jason Bernier always went beyond our expectations. From beginning to end he made the whole process seamless. We will definitely be back for our next vehicle! Thanks again, Jason 😊
Wonderful experience. Customer service and repairs are top notch. They were booked out a few weeks. We were going to be stranded and staying in a hotel with our cat and dog while we waited for them to find time to fix our sprinter. They fit us in the day we showed up and saved us so much stress and money.
Had a very complicated electrical situation after an accident and they were GREAT
Ask for Marlon. He is very straightforward and supportive. We had a minor pricing issue, and he handled it smoothly with integrity, preserving the positive nature of the experience by immediately choosing to "do the right thing." I generally dread the whole car buying experience, but he restored my faith in the process. Would not hesitate to shop at Porsche Boise again.
Purchased 2 Chevy Colorados for my older kids. Great prices. Fantastic sales experience.
Working with Shaun Ferguson was by far the best car buying experience I've ever had. When I told my friend about a beautiful pre-owned Lexus I saw on their website, he called Shaun to set up a meeting and within an hour I was test driving it! From the start, Shaun was super friendly and treated me as a valued client - even though I wasn't buying a super luxury vehicle which is his specialty. And, I felt I received a fair amount for my trade in. I was also in the middle of refinancing my house so ...
Recently purchased a used SUV from Lyle Pearson Mercedes dealership and my salesmen was Marlon V. He was very helpful throughout the entire process and I was driving my car home within two hours of arriving. I'm very thankful for this car buying experience, simple and easy.
Absolutely the best experience buying my first Porche. I worked with Marlon, and he was very helpful and knowledgeable. He made this process very easy for me. I highly recommend working with Marlon to purchase the car of your dreams.
I have to give these guys fives stars. I rarely give a five star rating, but these guys really came through. We are on the road in the sprinter rv, Jackson and the mechanics where able to replace SCR and NOX sensors under warranty. Squeezed us in line and done in two days. Really surprised me!! Thanks again you deserve 6 stars.
I absolutely love this dealership, Richard and Sebastian was nothing but helpful when it came to helping me get a new car. I appreciate all you guys do
Buying a car is always so stressful and can be a pain, but working with Mike at Lyle Pearson was such a breezy, fun experience. He was very personable and even checked up on us afterwards to make sure the car was running smooth. We loved working with him, Mike was super awesome!!
Buying a vehicle at a dealership for me, ranks worse than a root canal. Just the stress level of dealing with people pulling tricks is enough to make me cringe. I have purchased Three Brand New Ram/Jeep/Dodge products and Two F150's in the last Six years. I have also attempted to deal with some GM products but again, dealer tactics get in the way of a sale every time. This year, I decided to treat my self to a used Porsche, apprehensive as I was to walk into Lyle Pearson, even with my own financing setup ahead ...
Great people here. Very helpful.
My husband and I have purchased two vehicles from Lyle Pearson. Excellent customer service with no pressure to buy. We loved how professional and honest everyone was. Mike Hazel is the BEST to work with. He keeps in contact with you to ensure you are happy with your purchase. He will even call you on your birthday! Whenever we are looking for a car, we go to Lyle Pearson first.
I had a wonderful experience with Lyle Pearson. We live in Bend, OR and found our dream car, a CPO 2017 Volvo XC90 with the only available options we wanted in a car- anywhere in the states. I contacted Ted and he was very easy to work with. Most of all, he is somebody I felt I could trust for a long distance transaction. The vehicle was already priced well, so I felt it unnecessary to deal back and forth and he was fair with his final offer. My wife and I arrived just past closing (didn't consider the time ...
We bought our second car from Mike Hazel and Lyle Pearson. Service is fabulous by everyone at the dealership. We went back to Mike because his customer service is incredible. He does everything he can to make your experience the best. Thanks Mike!!
Ted was attentive, responsive and professional at every step throughout the sales process. He even volunteered to deliver the vehicle to me! I will definitely be a repeat customer (even though it's a 6 hour drive). Definitely worth the road trip!
Great experience! Richard was so helpful and took the time we needed to get to know our new RDX
We have usually had some bad experiences with dealerships in the past. We found a car online that we were very interested in, but a little weary to go check out because it was at a dealership. We worked with Mark Seitz and it was an awesome experience! No pressure at all! He listened and we definitely felt heard. We did end up purchasing the vehicle we went in there for. Overall it was a great experience and we would go do it again anytime!
I want to express my sincere gratitude to Tony, the service manager for his professionalism and dedication to details when servicing my vehicle. My car is very important to me and Tony makes sure that everything is done with care.
The sales staff (Richard) was amazing. No pressure, very friendly, knowledgeable, and transparent. Everyone was great. That was THE best car buying experience I have ever had. We purchased a used Honda Pilot and got one in exquisite shape, low miles, low price, low/affordable monthly payment, and got a 5 year car warranty and gap insurance. I have only high praise for them.
I had a great experience at Lyle Pearson Mercedes-Benz. Marlon V. had wonderful customer service and was quite personable. I had specific means to purchase the vehicle and everyone involved was flexible and accomodating. You can count on Marlon to care of you. Go in with a plan and see what they can do! Very customer oriented.
Last night we went to view a car we happened to see online. Mike came to our aid, and provided us exceptional customer service, catered our family of 5, remembered all our names, and helped our family 110% after we all fell in love with that vehicle. Mike made us all feel comfortable through the entire process and even felt like part of the family by the time we drove the car off the lot. Thanks times 1000 again, Mike Hazel! We appreciate you and such a great experience you gave us!
Great Dealer ship and Mark Seitz was great to work with. Checks on your satisfaction with the sale and always says hello when visiting the Dealership
When I finally decided it was time to get a new car, I knew I would get another Acura. Mike Hazel @ Lyle Pearson Acura was professional, patient and helpful. I am so grateful & love my car.
The cars sell themselves but I had a great experience with Mike Hazel. I was looking to purchased a certified owned vehicle. They didn't have one at the time but I was contacted about a month later when they got one in. I was able to look at it before it was put on the lot for sale. I was impressed and purchased it. He was very personable and still says hi when I bring the RDX in for maintenance (also very good).
I would like to comment on the excellent customer service my husband and I received from Lyle Pearson, in particular Mike Hazel. Not expecting to have to purchase a car at this time, we were not in the market for an expensive vehicle. Even though it was freezing outside Mike came out to help us with a bright smile and a warm handshake. He treated us as though we had a million dollars to spend. He took the time to find me a beautiful car in great condition at a price better than I expected. In a time when business ...
I would definitely recommend Lyle Pearson. We worked with Dalton Bowman to buy a car that was just right for our family. He asked us what our needs and wants were to help us find the car that was right for us. I had an idea of what car I wanted but in the end he was able to find us a completely different car that gave us way more features and was still in our budget. He was super friendly, respectful of our time, incredibly knowledge not only about their inventory but cars in general, and never pressured us. ...
Great and friendly Parts Service! Tony in the Mercedes parts department provides top-notch customer service. Not a easy job finding the right parts but he sure does make it look easy. Always enjoy swinging by. I wouldn't go any where else.
Salesmen Mike Hazel has become my whole families go to guy. We have in total purchased 4 cars from him over the last 6 years. He goes the extra mile and has always been so patient. When were looking for cars to fit our needs we call him for advice. At the dealership he makes us feel welcome and takes the time to answer all our questions. Collectively I think we've owned every car out there and we all agree Acura has the best quality for your dollar and safety needs. Yes this review is legit and no I wasn't ...
We purchased a car from Mike Hazel approximately 3 years ago. He is helpful, attentive and a person of great integrity! We have really enjoyed our dealings with Mike and highly recommend his service.
Travis and associates always take care of my vehicle. They are the best. Thank you. Update: I would really like to thank Mike Hazel. He stays in touch with me to make sure I'm still enjoying my RDX and always, always asks if there is anything he can do for us to enjoy our vehicle even more. We really appreciate that he takes the time to catch up with us. Thanks Mike and the other staff members there at Lyle Pearson.
I have been a confirmed Acura owner since I purchased my first new one in 1992. I moved to Idaho in 2004 and have purchased 2 new ones at Lyle Pearson from salesman Mike Hazel since moving here. Mike has the perfect personality for Lyle Pearson's Acura. He is extremely knowledgeable , pleasant, customer service oriented and not pushy. He patiently explains what you need to know and answers any questions you may have (often many times over). He even calls and wishes you happy holidays. I mean, really, what salesman does that? Oh, and their service department and service reps are the ...
Everyone at the Acura dealership is a pleasure to work with! I have been working with Mike Hazel for 6 years and have never had a better experience with a sales person. Mike knows how to help you find a vehicle that will not only meet your needs but that will put a smile on your face when you walk out to get into it. Mike has worked so hard to build trust and a relationship with me and my family that he is my absolute first choice whenever I am in the market for a new car. Ask for him ...
I got a new Mercedes 6 months ago. I am so happy with my purchase. Mike Hazel made my experience so easy. He was with me from giving me the test drive to signing off. Buying a new car is very stressful, and Mike knew that. I will definitely be buying my next Benzo from Mike Hazel. And Lyle Pearson .
I highly recommend this place! Great people and easy to work with. Mike Hazel is a genuine person who helped us pick out our car! He really took the time to get to know us and help us get the best deal for our vehicle. If you're looking for easy car buying, hit him up. They made car buying easy and hassle free. 10/10 recommend!
Bought my first used Land Rover at Lyle Pearson with the help of Richard from Acura. The entire buying process was so easy and enjoyable with him. I will be buying my next car from the same dealership if they keep up the amazing service! Everyone at the both Lyle Pearson Land Rover and Acura are super friendly and accomidating. A few days later, I had a hard time setting up the InControl functions to remote start my car. Ted from Land Rover was so helpful and made the whole Land Rover experience really enjoyable. If anyone is looking to ...
We had an easy headache free time buying a used vehicle here. Marlon was great to us as our salesman and everyone else we came in contact with was great as well. They seem to price everything fair and they have a great selection of new and used vehicles. I highly suggest that you check them out.
My husband and I had a great experience with them when we purchased our Subaru Outback. There was a chip on the hood that they took care of for us. When we test drove our car, the gentleman was very nice and informative, which we really appreciated. We would highly recommend!
Mark S was really great to work with at the Mercedes part of the auto mall; professional and ( definitely includes manager and finance) overall great experience! Thank you for being timely as well .. much appreciated.!!
They always take good care of me and my car. A class act.
Hands down the best shopping/buying experience we've had. Informed, professional and authentic from early shopping to post sale support. Can't recommend highly enough.
Our salesman Dalton Bowman was awesome! Thanks to him we are able to surprise our oldest with a great used car for Christmas without breaking our bank this year. Thank you so much Dalton, I will absolutely recommend you to anyone looking for a vehicle, you made things fast, easy, and the right fit for us.
Great service, super nice people. Had an issue with my Sprinter Van's shifting. Been dealing with it trying to discover why for a few months. Finally able to demonstrate the mystery with a tech on a test drive. They figured it out, my van is running perfectly, great job. The complexity in new vehicles is so high it's super important to be able to communicate what the problem is so the techs can get it right. They listened, we got it narrowed down and they fixed it. Thanks LP team.
I purchased a used Mazda and it was my first time buying a car using an auto loan. Richard Nueman was extremely helpful, friendly, and knowledgeable through the entire purchasing experience. I needed the process to be prompt, as I was only in town a couple of days. Richard worked quickly to ensure I could purchase the car I needed. I would highly recommend Richard and the entire Lyle Pearson dealership team to prospective car buyers.
Marlon is truly an asset to Acura..I leased a new vehicle through him. The total experience was easy. Marlon went over and above to ensure I received the best service. I look forward to doing business with Marlin for many years. He is the best.
Mark was wonderful helping me figure out which car checked off all my must- haves, and I'm loving the GLA 250 I decided to go with. Lyle Pearson does a great job at making you feel as though they truly appreciate you. Will definitely continue to shop here.
Great place down to earth people and solid salesman ,management, and owner
I had my car towed there due to left passenger door flew open while driving. Not safe to drive. I was able to have the car towed there within an hour. Service team responded and stated a part needed to be ordered and car would be ready the following day. I asked for a courtesy car to get home, since I was stuck at work. I was informed they were all booked out and none available. I got a ride to your service dept and was driven to the rental car place down the street. The rental car place informed ...
My 20 year old car finally gave out and I needed a car quick. One of my least favorite things to do is car shopping however I had no choice at this point. I went to Lyle Pearson because my favorite salesman, Marlon Velasquez, works there. I purchased my last 4 vehicles from him in the span of 20 years and 3 different dealerships. I will only go through Marlon as he has never let me down. Marlon takes the time to listen to what type of vehicle I am looking for as well as the how much I want to spend. I have ...
Awesome. They are the best.
In the service department I dropped my car off and had a small issue. When I left I felt a little put off, because I usually always have good luck here and they are great to work with. When the manager saw that I wasn't my usual Happy self he called me to find out what the problem was. ( within an hour of discovery) after speaking to me he acknowledged the problem and said he would work on that and asked me how I could feel totally confident with their team ! He and his team worked extremely hard to ...
Very pleasant to deal with lyle Pearson Dealership when I purchased my car. All of the Staff were polite and very professional. Rich was my sales agent and was very knowledgeable of his product, very helpful and patient. I thank him for that. If you are in the market for a Volvo, go see Rich and tell him Bud sent you. I hope your experience is good as mine was. In other words, Volvo is the place to go, Rich is the man to see.
They always go above and beyond to help whenever I'm in for service. Also have purchased several vehicle through them and am always happy
I'm the CEO of Express Plumbing Service INC. I have purchased over 10 commercial vehicles from Tom over the last 7yrs. He has top-notch customer service and superior knowledge about the vehicles he sells. Thank you Tom!
Great dealership. Very honest. Much better than Tampa Volvo. Long story.
Everyone is the service dept is GREAT, Great service, even Great price, Thanks
Well.....the customer is always right 😊
I've been doing business with Lyle Pearson for many years. I always get great and attentive service from the sales and management teams to the parts and service departments. I highly recommend this dealership. Ted Cook was great to work with as a salesman.
Just had my first service on my new Acura. Everyone there was so nice and friendly. They took great care of my car. This is an awesome dealership!
Love the service, and I Love my NEW CAR!!! Royce is awesome... always does his best to OverDeliver!!
I have never enjoyed buying a car before, but the sales staff at Lyle Pearson made the process simple, honest and fast! I did my research, named my price, and without any of the typical salesmen games, they agreed and we closed the deal. I will be a repeat customer... as soon as I can afford a Porsche!
My husband and I had a wonderful experience with Lyle Pearson. It started with Charles in the sales department. He was patient and kind answering all our questions. Chris Simmons Service Director has a fabulous team! They are professional courteous and easy to work with. Skyler has been so helpful. Thank you to all of you!
"Big Jon" did Everything he said he would! So Excited to Have my GLA! What a Powerful little SUV! It Feel so Safe! Love Mercedes Benz! Beautifully Constructed Vehicles! Thank you Jon! Thank you for working your Magic! 🤩🎄🤩 Merry Christmas!
This is definitely a five-star dealership
Awesome! These guys got my car in at the last second! Great service! Thanks for being awesome!
Very quick response to inquiries, great explanation of the vehicles, features, use and differences to & against other vehicles. They were very amiable people who are very easy to work with. Lastly, they were honest, open, humble and knowledgeable. All very rare attributes in the car business.
Bought my Jeep from Scott at Lyle Pearson and have zero complaints! Who loves to sit at the car deal for half or all day? I sure don't! I was out of there in 3 hrs from start to finish and would have been out sooner but there were some communication delays (not on Lyle Pearson's end) and had to sit and hold until things were completed which wasn't a problem. I dread car dealers and Scott was NOT your typically salesman. He was professional, laid back, down to earth and great to work with! I didn't ...
Found a used vehicle online on a Saturday night. Went online and got the car fax from their chat and all the info they had. They told me I would receive contact on the next business day. I received an email from Bob maybe an hour later. Bob was able to work with me on every aspect. I am from out of town and had no way to get to the location in a quick manner. He went out did a walkaound video, talked to his service department, and even did a quick test drive to tell me any issues. ...
Chris Simmons helped me sort out issues with my vehicle and he was great to work with. Once he took over handling my vehicle, he was excellent to work with and we were able to resolve the issues in a timely manner.
I had the opportunity to work with the sales service team on the purchase of my new Mercedes. I have purchased multiple cars with all different dealers and never have been so pleased as I was with Lyle Pearson and Charles. Charles took the time to show me anything and everything. I felt as if he was really listening and understood what I was needing. I will mever go anywhere else! Thank you Charles and team for all of your help.
My salesperson Scott Reed is great,very easy to work with! We got a good deal! And my wife loves the car!
Roger went out of his way to ensure that I got in and out quickly while offering a nice loaner and going over the gadgets inside the loaner. When it turned out that I needed rear brakes on top of the 70k mile maintenance, he was respectful of aversion and hesitancy I felt after hearing the quoted price. I explained that I might check a couple of other places to get a quote and he politely influenced my decision toward Volvo parts and Volvo technicians. I decided to have them done at Volvo.
Excellent customer service!
The staff is very professional and and occomodating. They are The true definition of customer service. The Drive from twin falls is well worth it.
---